New to social media? So are some of our clients
When used correctly, social media can be a great tool for promoting your dental practice. Just like during a free consultation for cosmetic treatment, social media provides a platform for you to engage with new or existing patients, helping you to build long term relationships.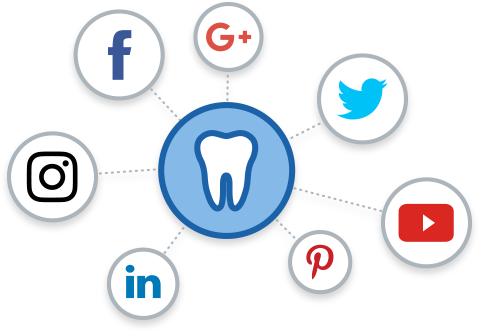 You can trust our social media guru's to set up your Facebook, Twitter, LinkedIn, Pinterest, Instagram, YouTube, Google+ accounts for you.
How many times a year do you see a patient on average? Maybe once or twice? We create and post interesting content on social media, so that it can help keep you in your patients lives in between visits.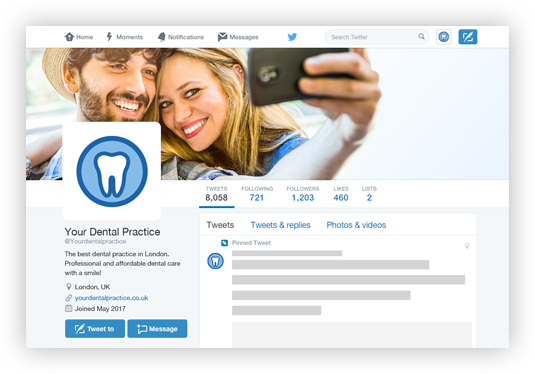 Social Media Sponsored Adverts
Why you need Facebook advertising
Social Media sites like Facebook, LinkedIn, Twitter, Pinterest and Youtube offer advertising that could potentially help boost your content as well as traffic to your website.
Facebook is one of the biggest social media sites with over 1.35 billion active users (and growing). Users typically spend an average of 30 minutes per day on Facebook, therefore it can be one of the best places to advertise your dental practice.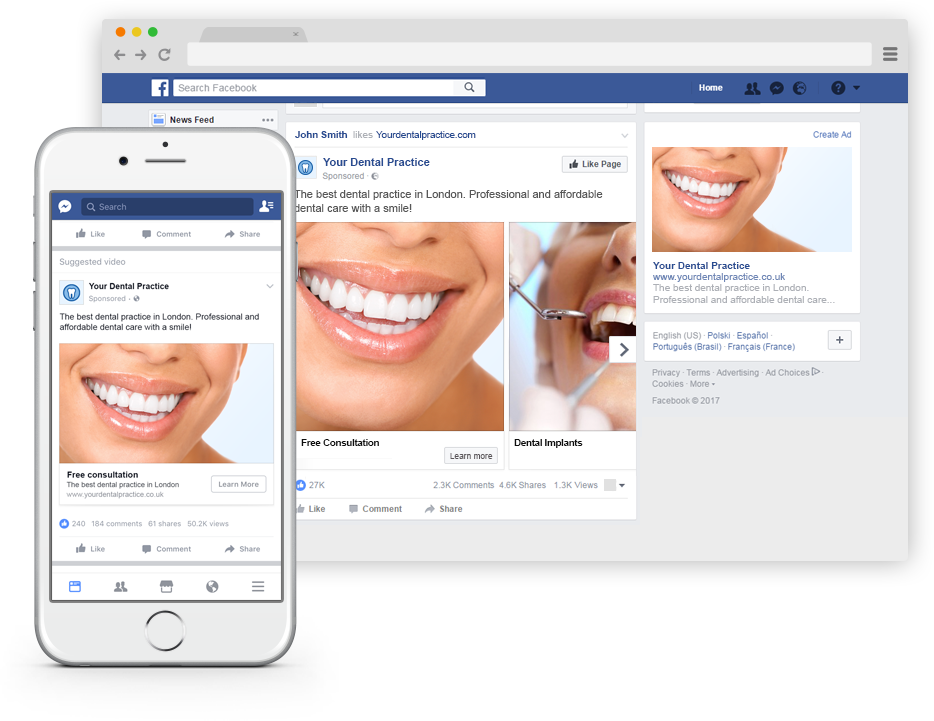 Engage With Your Patients On Social Media
Drive traffic – get conversions
Paid for sponsored ads are an effective and more direct way of targeting a specific audience and creating brand awareness. It can help to drive them to your website in order to increase traffic which can lead to conversions. By ensuring your adverts are seen only by the people you would want to see them, we are able to guarantee a much larger return on investment and significantly reduce your overall advertising spend.
We can help with social media sponsored advertising by creating engaging adverts for lead generation, video marketing and re-marketing campaigns.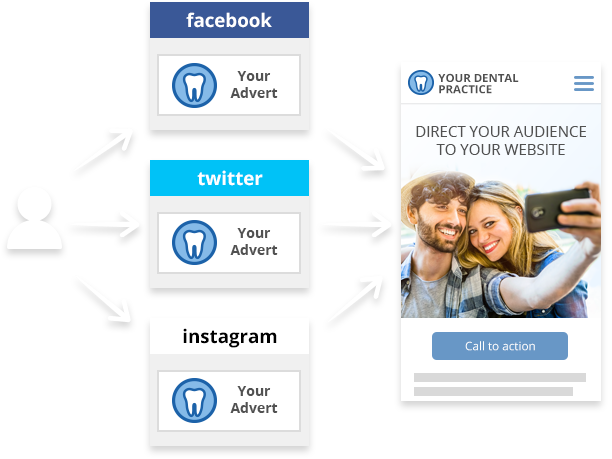 Grow Your Dental Practice Online
What Dental SEM can offer you
Full Marketing Package
A new dental website or SEO will not help your practice reach it's full potential. Our capabilities include websites for dentists, dental SEO, Google Adwords, internal marketing and email marketing.
Proven ROI
The return on investment (ROI) is the ultimate measure of success. We help build your business and get you an ROI from your website and marketing. Our clients can tell you about their successes.
Guaranteed Exclusivity
We only work with one dental practice per area, giving you our full attention. It would be unfair and unethical to work on another practice's SEO if they are close by.
Support Anytime
We don't operate a Monday to Friday, 9 – 5pm schedule; we know how busy you get with patients, which is why we're available to you whenever you need us. Call, email, Skype us anytime.