SEARCH ENGINE OPTIMISATION (SEO)

Get found on search results organically
Dental SEO (Search Engine Optimisation) is the natural/organic process of positioning your website to rank highly on search results pages for the most relevant dental keywords. When patients search for a dentist then we want your website pages to show up first. It is not only something to do for your business online – it's the foundation of your entire online dental marketing strategy.
SEO is an on-going process that requires regular monitoring and updates; why do all the hard work to get you ranking well, and then let it slip in rankings when you stop SEO?
Our dental SEO strategies are executed according to industry best practices. We conduct extensive dental SEO keyword research and competitor analysis for your field. The goal is to generate high quality visitors who fit the demographic and budgetary requirements of your business' services.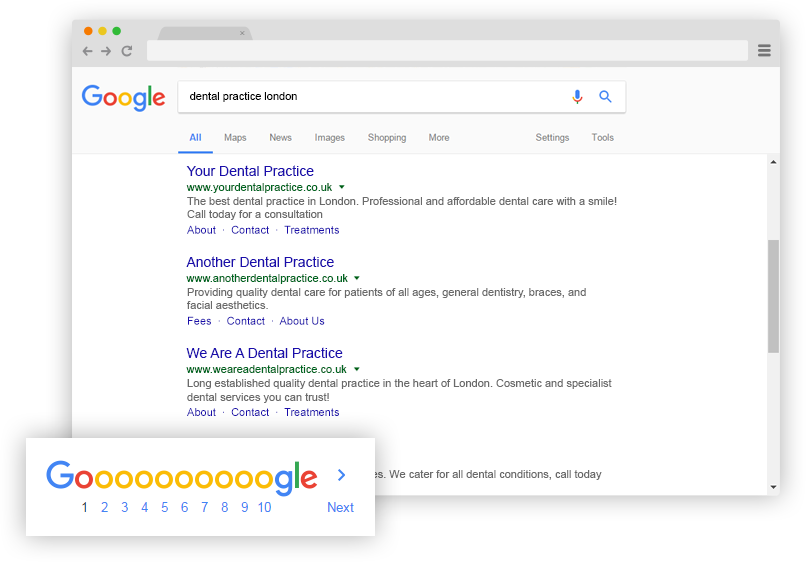 Search Engine Optimisation (SEO) & Search Engine Marketing (SEM)
Why dental SEO & dental SEM go hand in hand
It is critical that your marketing strategy includes a consistent, effective effort that enables your dental practice to be found. The online industry as a whole works on SEO for organic searches; SEM is the paid searches.
Some people like to keep both elements separate (and charge you twice), but we define SEM as a catch-all term to describe all paid and organic efforts that drive traffic via search engine results pages.
Depending on the competitiveness of your market, it is often crucial for organic (SEO), and paid (SEM) searches to be incorporated into your online marketing strategy. Your paid and organic initiatives should work together to support one another. Plus having organic and paid listings near one another on a page actually increases trust, and accordingly, a greater click through rate for your organic links.
Search Engine Optimisation
Link Building
Mobile Search
Search Ranking Factors
Local Search
Page Rank
Content Marketing
YouTube Optimisation
PPC/Adwords
Retargeting
Geotargeting
Mobile Search Advertising
Enhanced Campaigns
Bing Ads
We want to provide you with better value for money, so we provide all SEO and SEM services as part your online dental marketing.
Grow Your Dental Practice Online
What Dental SEM can offer you
Full Marketing Package
A new dental website or SEO will not help your practice reach it's full potential. Our capabilities include websites for dentists, dental SEO, Google Adwords, internal marketing and email marketing.
Proven ROI
The return on investment (ROI) is the ultimate measure of success. We help build your business and get you an ROI from your website and marketing. Our clients can tell you about their successes.
Guaranteed Exclusivity
We only work with one dental practice per area, giving you our full attention. It would be unfair and unethical to work on another practice's SEO if they are close by.
Support Anytime
We don't operate a Monday to Friday, 9 – 5pm schedule; we know how busy you get with patients, which is why we're available to you whenever you need us. Call, email, Skype us anytime.